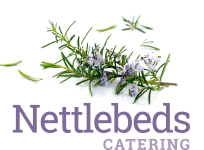 Nettlebeds, just ouside Alresford, close to Bighton, Ropley, Alton and Winchester is Hampshire's answer to the "boutique caterer". Each client receives a unique personal service, thereby ensuring that however small the occasion it is the success it deserves to be.
After a course at Leiths, eight years in a top London catering company, as well as cooking in The Bahamas for a well known Author and in London for an A list Hollywood star, Janie realised that her love for entertaining, organising, creating and presenting delicious food was the way forward.
As her list of clients began to grow substantially through personal recommendation she decided to launch Nettlebeds Catering. If you would like a quotation please get in touch with Janie by email or telephone.
Please Get in Touch
Colden Lane
Old Alresford
SO24 9RF
Phone : +44(0)1962 738433
or 07879 630908
Email: [email protected]
Nettlebeds Catering, Colden Lane, Old Alresford, SO24 9RF
Phone : +44(0)1962 738433 or 07879 630908
Email: [email protected]